Things start to get really busy at this time of year! In addition to publication of the new Cooper & Fry novel THE CORPSE BRIDGE in June, I have a series of events coming up in May, when you catch me at various locations around the UK.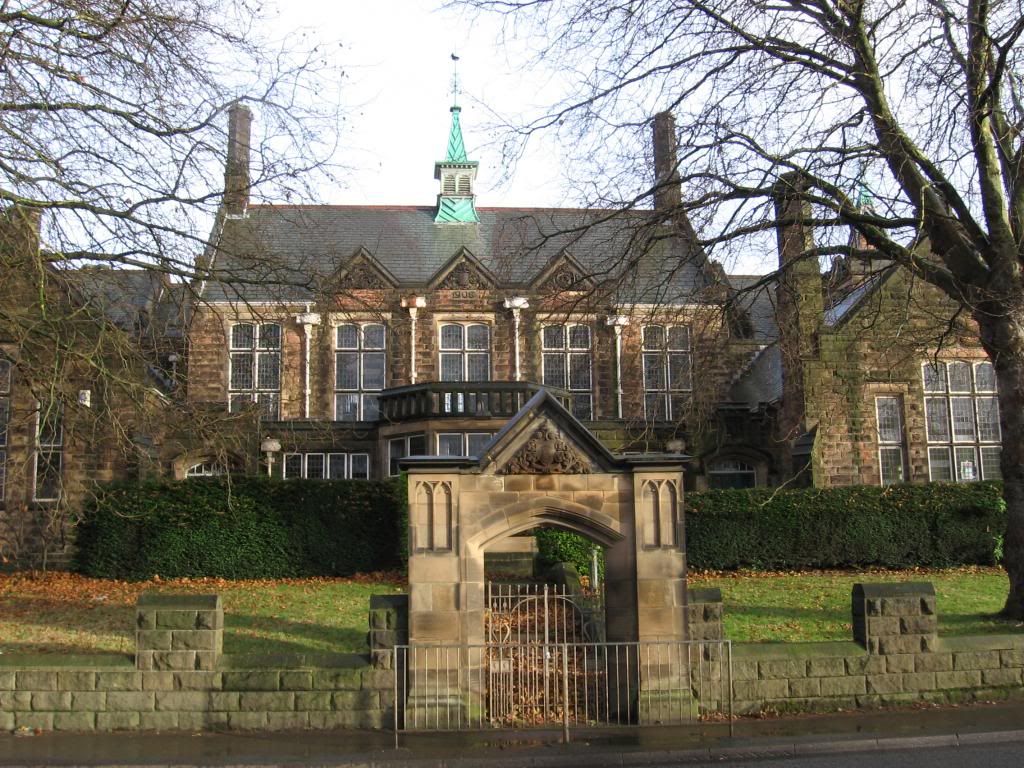 BELPER ARTS FESTIVAL
First off is a 'Meet the Authors' event in Belper, Derbyshire, when I'll be joining 12 other authors at the Strutt's Centre, Belper, this Saturday 3rd May (10am-3pm) to sign books and chat to readers. Copies of all the Cooper & Fry novels will be on sale, and admission to the event is FREE. there should be plenty of time to chat with readers, so come and say 'hello'!
This event is part of Belper Arts Festival, and will be held in conjunction with a craft fair at the Strutt's Centre, which is an interesting building in itself - a former grammar school built in 1909 but now converted into a community centre (pictured left).
Belper is a fascinating little Derbyshire town, a bit outside the Peak District, but right at the heart of the Lower Derwent Valley, which has been designated a UNESCO World Heritage Site as the historic birthplace of the factory system. The heritage site runs along the length of the River Derwent from Masson Mill at Matlock Bath to the Silk Mill in Derby. More information here:
http://www.derwentvalleymills.org/
A VISIT TO THE SOUTH WEST
From May 15th - 18th, I'll be travelling to the South West of England to take part in the crime fiction festival CrimeFest in Bristol. I'm appearing on two interesting panels to discuss '21st Century Police Procedurals' and 'Forgotten Authors'. I'll be in discussion with some old acquaintances like John Harvey and Martin Edwards, and others I'll be meeting for the first time, such as Clare Donoghue, Quentin Bates and Fergus McNeill. It's a few years since I was last at CrimeFest, so I'm sure there'll be lots of other people to catch up with!
While I'm in that part of the country, I'll be taking the opportunity to do two library events in areas I don't get chance to visit very often. On Thursday 15th May I'll be across the river from Bristol to talk to readers at Chepstow Library in Monmouthshire, while on Friday 16th May I'll be down in Somerset for an event at Wells Library.
I was particularly keen to do something in the part of Somerset after watching the news of the devastating floods they experienced throughout much of the winter. Living in a rural area myself, I know the consequences of such a disaster will continue for years after the pictures of flooded villages have disappeared from our TV screens. Making an offer to do an event for local readers made me feel just a bit less helpless.
The following week, on my return from Bristol, I'll be making a return visit to Bollington Festival in Cheshire, when I'll be doing an Author Evening at Bollington Arts Centre on 21st May. This is not the first time I've been asked to go back somewhere 'by popular request'! Though I'm reminded of a joke told by Mark Billingham: "You only go to the same place twice - once when you're on the way up, and once on the way down. So thank you for having me back again!"
CLUMBER PARK LITERARY LUNCH
The next day, I'm back home in Nottinghamshire to do a special event for Notts readers in the form of a Literary Lunch at the Clumber Park Hotel, situated in the heart of the county's Dukeries area (Clumber Park Hotel pictured below).
Many visitors to Nottinghamshire will be familiar with the Dukeries, and with Clumber Park in particular.
This area used to part of Sherwood Forest, but was divided up by various rich aristocrats to create huge landscaped estates on which they built mansions for themselves. Some of those historic houses still remain - such as Welbeck Abbey, Thoresby Hall and Rufford Abbey - but the vast Clumber House, home of the Dukes of Newcastle, was demolished in 1938. The park, lake and surviving buildings are now in the ownership of the National Trust and attract many thousands of visitors every year.
The Clumber Park Hotel stands just opposite one of the entrances to the park. You could have a morning out in the lovely Clumber Park, then come and join us for lunch!
Also speaking at the literary lunch will be the Sheffield writer Samantha Priestley, author of 'Despite Losing it on Finkle Street'.
The event is being organised in conjunction with one of my favourite independent bookshops, Bookworm of Retford, and it coincides with the paperback release of the 13th Cooper & Fry novel ALREADY DEAD on 22nd May.
Finally, the month of May concludes with an event at Doncaster Central Library - the official opening of Doncaster's 'Turn the Page' literary festival on Tuesday 27th May.
There will also be lots more dates following publication of THE CORPSE BRIDGE in June. Note the date for the launch event in Chesterfield is Friday 20th June.
For more details of these and other events, visit the Events Page: